Gone are the days when a bowl of salad meant only green vegetables and bland tasting dressing. Now it's time for salads that look and taste exciting; People are experimenting with textures, adding crunchy nuts and soft fruits, juicy meat pieces and lip-smacking dressings. This is the time when salads are gaining real popularity and everyone loves them as much as a main meal. It is a well-known fact that salads should be one of the essential ingredients that we include in our diet, but did you know that using the right ingredients, salads can do much more than just reduce weight?
[ये भी पढ़ें: weight loss: वजन कम करने के लिए आजमाएं ये हाई-फाइबर, हाई-प्रोटीन सलाद]
Mixing leafy greens with different fruits, vegetables, nuts and seeds can enhance the health benefits of your simple bowl. If you are suffering from any kind of health problem, there are usually certain ingredients that you should consume more and adding those ingredients to your salad will ensure that you can meet those daily requirements . So anyone who wants to keep their blood sugar levels in check but doesn't know how to chase down all the essential foods in a day, try these salads.
Salads are widely preferred because of the variety they are today.
Here is a list of 5 healthy and interesting salads that can help you keep your blood sugar levels in check:
1. Strawberry Bliss Salad :
Berries and cherries are considered to be diabetes superfoods as they are packed with anti-oxidants and fiber. This salad is loaded with many other beneficial items like beetroot, almond, cranberry and basil, which makes it colorful and refreshing in your diet. For the recipe, click here.
2. Broccoli and Almond Salad:
Broccoli is actually one of the most nutritious vegetables around us, it is loaded with vitamin C, magnesium and anti-oxidants. Apart from this, consuming broccoli can also help in reducing your blood sugar level. Top with nutritious almonds and enjoy this crunchy and juicy salad, the recipe is here.
3. Chili Oil Avocado Salad:
When you think of healthy food, avocado is probably the first thing that comes to your mind. And the avocado deserves all the praise, with less than 1 gram of sugar, very low carbohydrate, high protein and fiber content, you don't have to worry about indulging in this spicy and hot salad. Read the recipe here.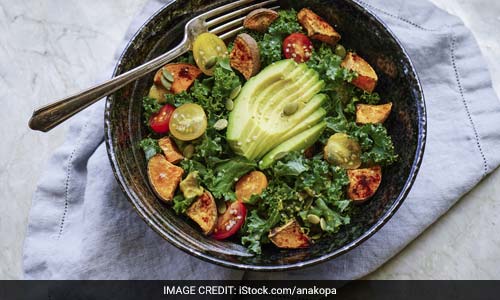 Avocado is an extremely healthy food item that you can enjoy in many ways.
4. Mixed Bean Salad:
Beans are healthy, come in a lot of variety and the best part is that they are so easily available. They are high in fiber, vitamins, minerals but low on glycemic index and this helps in controlling your blood sugar level. Read the recipe for this easy and quick salad here.
5. Superfood Salad:
This salad is loaded with all the good stuff, it has nuts, greens, fruits, berries, seeds and all these are considered extremely essential in a diabetic diet. Easy and quick to make, this salad can be included in everyone's menu starting today. Read the recipe here.
(Also Read: Lockdown Recipes: 5 Easy Fruit Salad Recipes To Try At Home)
So here you have a list of healthy salads that we all should try to include in our diet. Tell us which one you like the most in the comments below.

.