Taste of Malabar: 7 Malabar-Style Dishes You'll Love Eating
Kerala is known as much for its backwaters as it is for its food. While different regions of the southern state have their own distinctive culinary specialties, the magic of Malabari cuisine is known to food connoisseurs across the world. Located in the northern part of Kerala, the Malabar region offers a delectable spread of vegetarian and non-vegetarian dishes. From seafood to rice recipes, you name it and you've got the Malabari version of it. Rich, creamy and delicious can add to the cuisine of this part of Kerala.
Here, we have compiled a list of dishes from the Malabar region that you must try at home.
1) Malabar Fish Curry
This fish curry is loaded with spices like chilli, coriander and mustard. The coconut milk used while making this curry gives it a creamy texture and unique taste. If you love to savor the taste of fish, then this is one dish that you cannot miss.
Try Malabari Fish Curry Today!
2) Malabar Chicken Curry
If you are bored with the regular chicken curry, it's time to change your choice. Malabar Chicken Curry is a special Kerala-style chicken curry cooked in coconut oil. If you have never tried it before, now is the time to indulge your taste buds.
(Also Read: Celebrity Chef Kunal Kapoor Shares Tips To Make The Perfect Malabar Paratha – Check It Out Here)
3) Malabar Fish Biryani
Make this incredible Fish Biryani for a sumptuous feast with the family. This recipe is very much liked in many homes and is enjoyed by people of all age groups. This is a fish dum biryani with lots of spices and flavours. Cook it at home and don't forget to serve it with raita or mint chutney.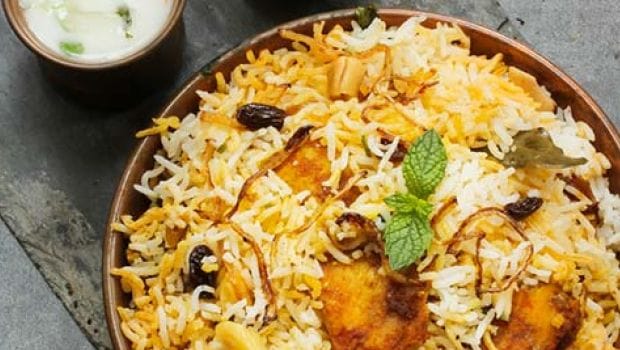 Fish Biryani is a favorite of seafood lovers
4) Malabari Shrimp Curry
Many people are picky about including prawns in their food choices. They often prefer prawns cooked in a certain way. However, you can try this Malabari curry where prawns are cooked in tamarind and jaggery. Coconut is also added. If you love non-vegetarian food with a twist then this is a must try dish.
5) Malabar Paratha
If you have made and liked Lachha Paratha, then you must make this version for yourself. Malabari Paratha is puffed, crisp and soft. Serve these parathas with ghee. You can pair it with South Indian curries like Malabar Chicken Curry.
[ये भी पढ़ें: टेस्ट ऑफ केरला: व्हाट इट टेक टू परफेक्ट अ मालाबार पैरोटा]
6) Ghee Rice
It is one of the most popular comfort food in Malabar cuisine. Put a spoonful of ghee rice in your mouth and you will be transported to the Malabar region with its earthy taste. It is garnished with dry fruits, green chillies and onions.
Ghee Rice is a Delicious Malabari Rice Recipe
7) Aripatiri
It is a popular rice made roti found in Kerala. Firstly grind the cooked rice with water and make a smooth paste. You can mix the ingredients and make it a hard dough. Make balls and roll them into thin circles. You can pair aripatiri with a variety of curries.
We are sure you must be salivating by now! It's time to spice up your meal – lunch or dinner – with these delicious dishes from the Malabar region. so what are you waiting for? Go to the kitchen and go!

.