Having done work during Corona, aren't you ashamed to pay? Asha Sevika's question to the government? – Aasha workers continue to demonstrate in Malegaon for various demands
Asha Sevika became aggressive against the government due to non-payment of incentive allowance to work during Corona period and started a suspension protest.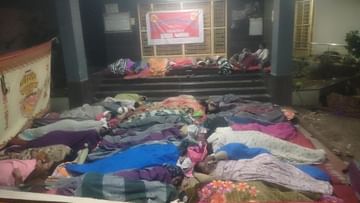 Image Credit Source: TV9 Network
Manohar Shewale, TV 9 Marathi, Malegaon (Nashik): As the incentive allowance for the work done during the Corona period has not yet been received, the Asha Sevikas have launched a work stoppage movement. Asha Sevikas launched a suspended protest in front of the Panchayat Samiti. Asha Sevikas worked directly in villages and towns during the Corona period by going to Corona patients and their families. Asha Sevika also played a major role in the success of the My Family My Responsibility program. But during this period, the government had announced that it would give an incentive bonus. However, an incentive bonus of only one month was granted to these agents. The angry Asha Sevaks held a dharna in front of the Panchayat Samiti in the city of Malegaon and attacked the government. At present, Asha Sevikas has continued her protest sit-in outside the Panchayat Samiti all night long, even in the freezing cold. Therefore, it is seen that Asha Sevikas has taken an aggressive stance against the backdrop of Republic Day.
There was enormous pressure on the healthcare system during Corona. Meanwhile, Asha Sevika, who is contributing to government plans and health check campaigns by going door-to-door at the village level, is protesting against the backdrop of Republic Day.
Asha sevikas says incentive allowance has been announced for Asha sevaks during Corona period. The Zilla Parishad told him that he will only receive one month's incentive allowance.
Therefore, Asha Sevika took an aggressive stance as it was revealed that the incentive pay was only for one month. Asha's sevaks who work on a fixed salary have demanded a salary increase as well as an incentive bonus.
Speaking right now, are you ashamed to give money to the government by mentioning the work done by the Asha Sevika protesters during Corona? Giving such an angry reaction, the CEO of Zilla Parishad objected to the published letter.
.