Shocking! Follow Ashok Chavan? 'This' person is constantly on the hunt… Suspicion of an accident, what complaint to the police? – Complaint by former CM and Congress leader Ashok Chavan to the police for being followed by a particular Attempt to harm
Chavan demanded that the police take due cognizance of the whole matter and take immediate action.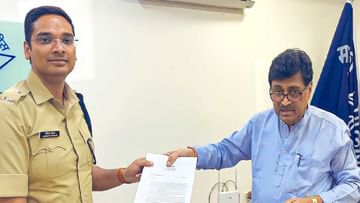 Source image credit: tv9 marathi
Rajeev Giri, Nanded: Another important news has come to the fore in the state as the war in Shiv Sena has reached its peak. Former Chief Minister Ashok Chavan has given shocking information to the police. A person constantly watches over me. Wherever I go, it follows. In Mumbai and Nanded, we are watched by individuals or mercenaries. It is seen that said person collects information about my encounters and travels while hunting. Ashok Chavan expressed his suspicion that this might be their plot to kill me. In this regard, he duly filed a complaint with the Nanded Police.
Misuse of falsified letterhead
According to Ashok Chavan, some government letters from when he was Minister of Public Works are being misused. Unknown people created a fake blank letterhead by keeping the signature and deleting the original text. What is special is that they already knew about this case. They also received a blank letterhead with only the signature. Therefore, he had already met with District Superintendent of Police Shri Krishna Kokate and brought this matter to his attention.
Fake letter found…
A police investigation also began in this case from January 31. However, today, after receiving a fake letter written to then Chief Minister Uddhav Thackeray regarding the Maratha reservation on a similar fake blank letterhead, Chavan immediately met with the Additional Superintendent of the Nanded police, Abhinash Kumar, and filed a written complaint about it.
"A ploy to tarnish the political image"
Since a fake letter with my signature has been prepared, there is a strong possibility that similar fakes will be fabricated and misused in the future. Ashok Chavan expressed the suspicion that there will be many elections in the coming period, and these false documents may have been prepared to tarnish the image politically and create misunderstandings among the people.
Looking constantly from the unknown…
Not only that, but in Mumbai and Nanded we are being watched by individuals and mercenaries. It was found that the said unknown person collects information about my visits, trips. Therefore, Ashok Chavan expressed a serious suspicion that there must be a conspiracy to cause my death. Chavan demanded that the police take due cognizance of this whole matter and take immediate action.
.