Why did Koshyari finally call Uddhav Thackeray "Saint Purush", is it "a slap of humor or an arrow of criticism"? – uddhav thackeray is a saint who said it and why know the reason?
I was dropped from the helicopter. Former Governor Bhagat Singh Koshyari has made a controversial statement that first the post of Chief Minister was gone, now the party and symbol is gone. Although there is a possibility of creating a big storm from this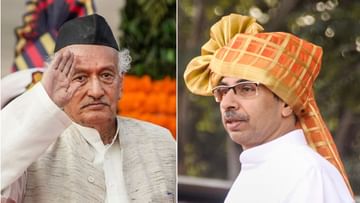 BHAGATSINGH KOSHYARAI AND UDDHAV THACKAREY
Image credit source: TV9 NETWORK
Maharashtra : Mahavikas Aghadi had organized a march against Governor Bhagat Singh Koshyari for insulting the caste men of Maharashtra. The main heads of research, including Uddhav Thackeray, Sharad Pawar had condemned him. After all, Governor Koshyari had sent a letter to Prime Minister Narendra Modi asking for his resignation from the governorship. President Draupadi Murmu received his letter and dismissed him as governor. Meanwhile, Koshyari's statement after the Electoral Commission bowed out to Eknath Shinde and Shiv Sena has returned to the limelight.
Prime Minister Modi trusted me and sent me to Maharashtra. I received love from people here. After covid I traveled to all districts of Maharashtra. I went around Raigad, Sinhagad. I went to the village of Jijamata in Sindh Khed. Saint Bhoomi of Tukaram and Tapobhoomi of Dnyaneshwar could be seen here. But, during this time, I didn't utter a bad sentence. We do not know the meaning of what we say. They took it their way. But, I was doing my job. He said it.
This morning the oath ceremony
Devendra Fadnavis and Ajit Pawar came to see me in the morning. When he came, he brought a list of his men's names on paper. After seeing this list, I swore him in as Chief Minister and Deputy Chief Minister. The test of who has the majority is in the House. The majority is proven in the House itself. So he explained to me that I had told him that I would give him time for the test of majority.
Poor Aditya, have mercy on him.
There was a situation where the president's rule would be imposed in the state. Aditya Thackeray met me and told me that he supports Mahavikas Aghadi. I told them, if there is support, give such a letter. Abhi yadi ya rahi hai, Aditya came out ten or twelve times. I felt sorry for poor Aditya. He asked what was my fault if he didn't prepare the idlis on time.
Uddhav Thackeray Saint Purush
I loved Uddhav Thackeray's family. He didn't seem like a great politician. Where did Uddhav Thackeray get stuck in politics? He is a saint. Uddhav was writing a five-page letter. If there was no upright man. If the gentleman was not a man. So would they have done such work (writing letters)? He was not a politician. But, they have been wrongly or duped into power. But, the rest of what happened was wrong, he said.
.