CBSE 12th Topper: Social Media, Time Table.. Tanya Singh, the topper who scored 500 points out of 500, shared the secret to success
Bulandshahr:
500 points out of 500. This score is from Tanya Singh, the Central Board of Secondary Education topper, CBSE class 12th. Seeing the result, you can guess how hard Tanya Singh had to work for it. Tanya Singh is a resident of Bulandshahr in Uttar Pradesh. Tanya Singh is a student of Delhi Public School (DPS), Bulandshahr who scored 500 out of 500 in her 12th exam. During a conversation with NBT, he revealed many secrets of his success.
distance from social media and mobile
Regarding her success, Tanya Singh, 12th CBSE, said that social media and the move away from mobile gave her this position. Tanya said that outside of schoolwork, she very rarely uses her cell phone. Whenever she felt like studying, she used to sit down to study.
ICSE Topper Talks: There is a shortage of doctors in the country, I will become a doctor, the noble intentions of Anika, ICSE topper from Kanpur

Used to study for 5-6 hours at night – Tanya
Tanya said it was better to study in the evening because there was also peace in the house. She used to study for five to six hours almost at night.
Problem during the Corona period
Tanya said that during the Corona period there was a lot of closeness to mobile. Because all subjects had to be studied from a mobile. He had a mental strain with his eyes.
Never took lessons – Tanya
Tanya said she got 93.4% marks in the 10th exam. He never took any lessons. She used to prepare herself and if there was a problem in a subject, she used to solve it by talking to the teacher of the subject concerned. For this reason, there has never been a need for tuition fees.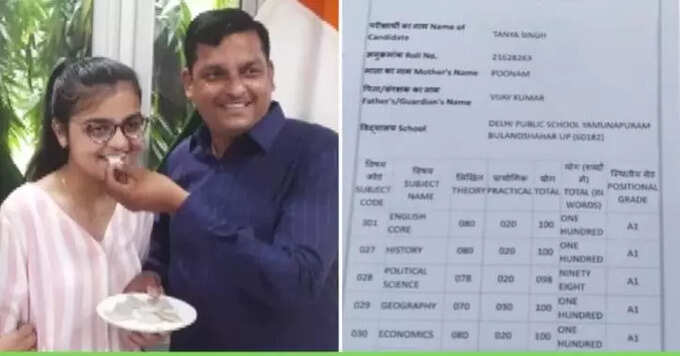 Tanya wants to become IAS
Tanya wants to serve the country by becoming IAS. He said father Vijay Kumar is an entrepreneur and mother Poonam is a housewife. He gave the message to young people only by staying away from social media and making books your friends.
UP shines in CBSE results, Tanya-Yuvakshi leads the standings with a perfect 500
,