Etawah crash: Truck collides with bus on Lucknow Hwy in Etawah… 3 killed, 2 injured – Truck collides with bus parked on Hwy in Etawah 3 killed 2 injured
Etawa:
News of a horrific road accident comes from Etawah in Uttar Pradesh. Three people have died after a truck rammed a bus on the Agra-Lucknow highway. In fact, the incident happened when the bus stopped on the side of the highway. A truck coming from behind at high speed collided. The collision was so violent that the bus was badly damaged. Two people were seriously injured. He was admitted to hospital. After the incident of the horrific collision in the sleeper, the police arrive on the scene and take stock of the situation.
On channel number 123 of the Agra-Lucknow highway from the Usrahar police station area of ​​Etawah district, at around 4 a.m. on Tuesday morning, the sound started coming from the rear of the bus carrying 90 passengers from Delhi to Darbhanga, then the bus driver stopped on the highway, stopped the bus and started looking behind the bus. Then the truck going from Ahmedabad in Gujarat to Lucknow hit the back of the bus. The collision was so violent that the front part of the truck was completely shattered. The driver and the truck operator became stuck in the cab. At the time of the incident, three people, who had gone to see the sound coming on the bus, found themselves trapped between the truck and the bus.

After getting information about the incident, UP Security Personnel Authority Chief Manohar Singh along with his entire team arrived at the scene. Information about the accident was also given to the head of the Usrahar police station. A crane was called to the scene and the truck and bus were separated. It was found that of the 3 people buried between the truck and the bus at the scene, two died. The driver and operator, who were trapped in the truck cab during the crash, were admitted to Saifee Trauma Center in an injured condition, where the truck driver also died during treatment.
The police station in charge gave information about the incident
Usrahar Police Station Chief, Gangadas Gautam, said 28-year-old truck driver Rizwan Putra Saddiq, a resident of Jahangiri, Nawabganj Police Station, Bareilly, died while being treated at the center of Saifai's trauma in an accident on the Agra-Lucknow Expressway channel number 123 at 4am on Tuesday. . At the same time, the driver's father and truck owner Siddiq, his son Majroom Baksh were seriously injured. The driver and bus conductor and another person stood behind the bus to see the sound coming from the rear of the bus. At the same time, the truck hit the parked bus from behind.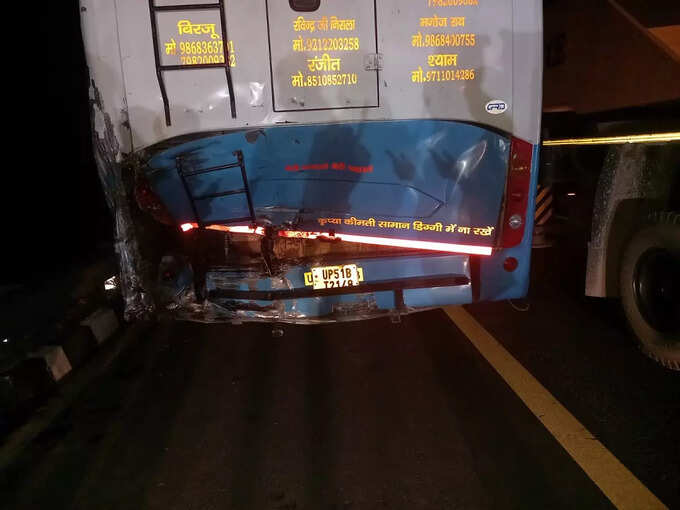 All three people were buried in the collision
The three people became trapped between the truck and the bus due to the violent collision. When the truck and the bus were separated using a crane on arrival at the scene, two of the three people were dead. Among these, one person has been identified as bus driver Shankar, a resident of Darbhanga, Bihar. At the same time, the identity of a deceased and injured person has not yet been established. Efforts are underway to identify the unidentified dead and injured. The Panchnama of corpses was sent to the district headquarters. Vehicles damaged on the highway were transferred to the Kudrail station. (Report: Madhur Sharma)
Now read news on NBT app click here to download
,