Naida: In a Noida society, the case of leader Shrikant Tyagi's indecent behavior with a woman is now becoming an issue for BJP MP Dr Mahesh Sharma. After the incident, Shrikant Tyagi was arrested by the police at the insistence of Mahesh Sharma. After that, the Tyagi Samaj, calling it a political conspiracy, accused Mahesh Sharma of it. Gradually, many other organizations also started opposing Mahesh Sharma. Mahesh Sharma published an open letter on Sunday calling the letters written against him false. In response, Thakur Dheeraj Singh, Chairman of Rajput Utthan Sabha who wrote a letter against Mahesh Sharma on Sunday same, again demanded action against Mahesh Sharma, taking responsibility for his letter.

Dheeraj posted a video saying, "The letter posted on my organization's letterhead was written with my consent. Noida MP Mahesh Sharma had used abusive language against Noida Police Commissioner. Therefore, he should also be sent to prison as an abusive leader. I take responsibility for this letter.


Complainants are bogus, says Mahesh Sharma
Earlier, Dr Mahesh Sharma had said in his letter that the same person, same pen, same handwriting could be seen on the local YouTube channel operating under the protection of a local politician and an official and a notebooks from different organizations. It is clear that some people are particularly interested in this question. Try to make the situation worse. These people defame the party. They also put a question mark on the strict law and order situation under the leadership of Yogi Adityanath. The MP also called for an investigation into the matter.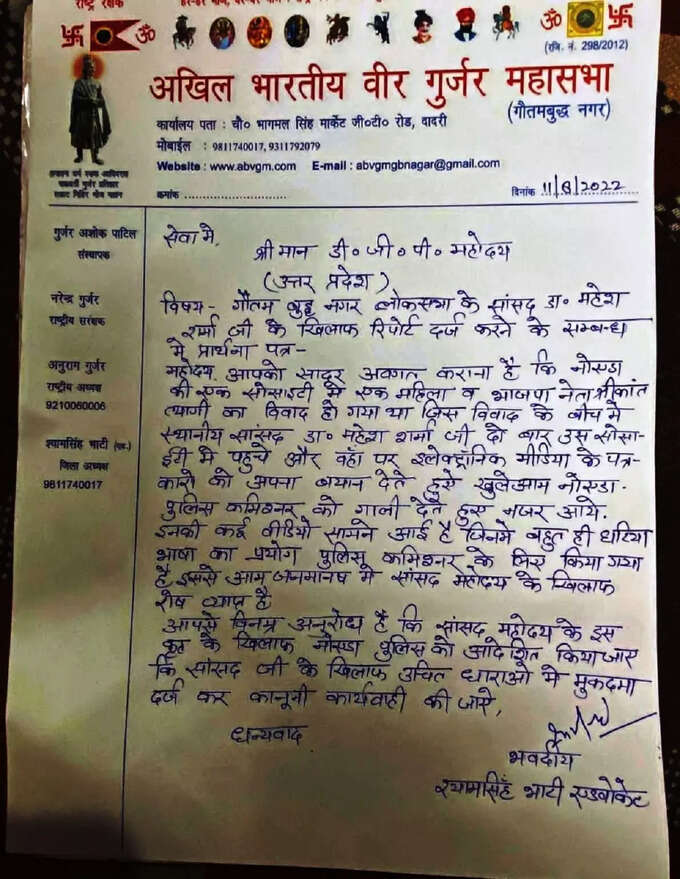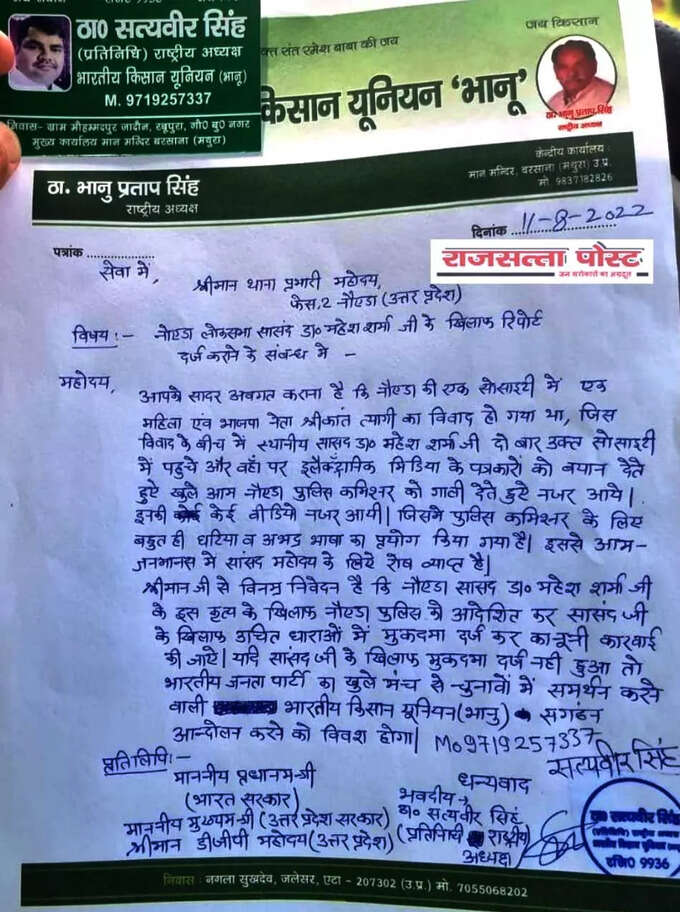 Shrikant was arrested when the deputy insisted
MP Mahesh Sharma had joined the Grand Omaxe Society of Noida on August 7 due to the outrage of the people after the rowdiness. He called the additional interior minister and informed him of the whole matter. After that, the deputy minister and the police commissioner arrived on the scene. Local MP Pankaj Singh also visited the scene. Shrikant Tyagi was arrested in Meerut based on the complaint in the whole case. In the viral video, Shrikant Tyagi was seen abusing a woman living in Grand Omaxe society. The police arrested the abusive Shrikant and sent him to jail. Since then, efforts have been made to create an atmosphere against the MP. (Entrance: Manish Singh)