what is krishna janmabhoomi shahi idgah controversy update
Nirmal Rajput, Mathura:
A meeting was held on Sunday at a private hotel in Mathura, Uttar Pradesh. At the meeting, a strategy was prepared to free the land of the birthplace of Lord Shri Krishna (Shri Krishna Janam Bhumi) from encroachment. Besides saints and Mahamandaleshwars of Mathura Vrindavan, Hindu organizations have supported Shri Krishna Janmabhoomi Mukti Nyas. Meanwhile, Mahendra Pratap Singh, Advocate and Chairman of Shri Krishna Janmabhoomi Mukti Nyas, also presented evidence related to the land of Shri Krishna Janmabhoomi.
Mahendra Pratap Singh, Chairman and Advocate of Shri Krishna Janmabhoomi Mukti Nyas, said Aurangzeb built Shahi Idgah illegally. Attacked the faith of Hindus by breaking the belly of our Lord Krishna. The idols of Shri Krishna were taken and buried on the steps of Jama Masjid in Agra.

Electricity worth billions stolen so farLawyer Mahendra Pratap Singh
Advocate Mahendra Pratap Singh said that even today this illegal encroachment and black act of Orangjemb hurts the hearts and minds of us Hindus. Recently, the Department of Electricity raided Shahi Idgah and a report of electricity theft was also registered. If these people had the documents relating to the Shahi Idgah, they would have made the electrical connection. So far, this electricity worth billions of rupees has been stolen.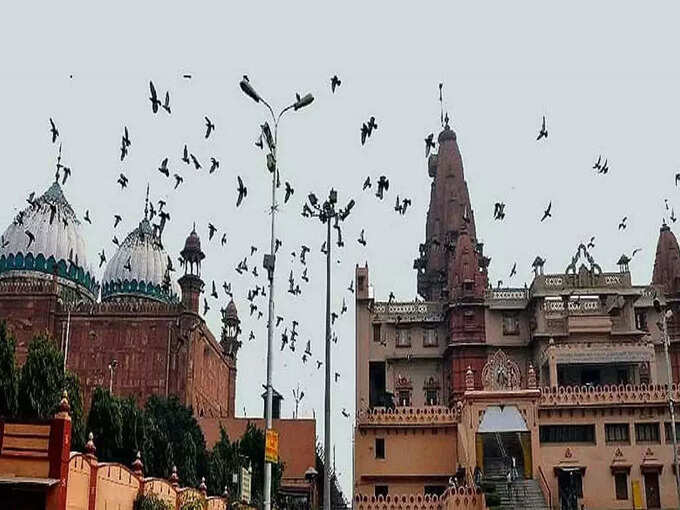 He said their names are not even registered in the Municipal Corporation. There are 13.37 acres of land here in the name of Janmabhoomi Trust in the Khasra Khatauni Revenue Registry. Even today, Shri Krishna Janmabhoomi Trust of Idgah Bali instead pays taxes. The Muslim parties repeatedly divert the case to court using various excuses. Now we Sanatanis Hindus must unite and fight to liberate the birthplace of our lovely Lord Shri Krishna.
"Aurangzeb supporters embrace all tricks to save Shahi Idgah"
As the voice of liberator Shri Krishna Janmabhoomi grows louder, panic sets in among Aurangzeb's supporters. Aurangzeb's followers are constantly adopting every trick to save Aurangzeb's legacy, Shahi Idgah. Decree of Aurangzeb…. Evidence of erasure of evidence from the walls of Idgah… Massare Alam Giri, Archaeological Survey of India.. Gazette of Mathura…. Register of Shri Krishna Janmabhoomi…. Map of the government.. (In which there is no name of Idgah anywhere) Evaluation of Khasra, Khatauni, Municipal Corporation.
Lawyer Mahendra Pratap Singh said our victory is coming soon, everyone is in our favour. An important decision is going to be made on February 16 that there will first be a hearing on the investigation or these people are not ready to stick to Rule 11 on the Muslim side. The same saints said it is very shameful. Hindus must fight for the birthplace of their god. The country has been repeatedly divided in the name of brotherhood. Nalanda's library was burnt down. All Hindu monasteries and temples have been demolished.

,