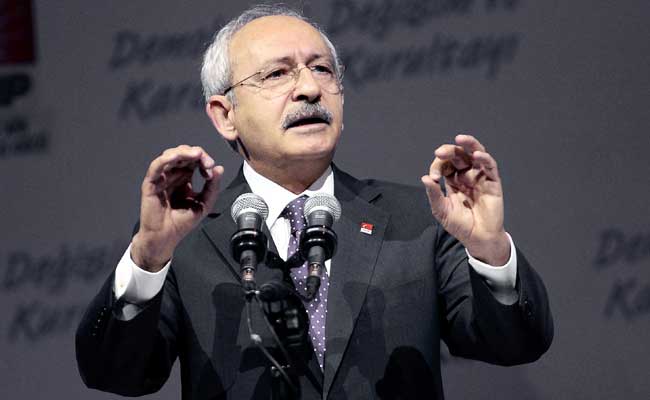 Ankara:
It took more than a decade and a few bitter defeats for Kemal Kilikdaroglu to win the trust of Turkey's opposition and become its guide in May's crucial parliamentary and presidential elections.
For better or worse, the bookish ways of the 74-year-old former civil servant stand in stark contrast to President Recep Tayyip Erdogan's flamboyant and pompous style.
But Kilicdaroglu, an ethnic Alevi who has led the Republican People's Party (CHP) since 2010, has worked hard to sharpen his image while changing his party's hard line.
Under his auspices, the leftist CHP – created by the mostly Muslim country's secular founder Mustafa Kemal Ataturk – once sidelined minority groups including the Kurds.
At the risk of offending the party's rank-and-file, Kılıçdaroğlu has also forged alliances with right-wing parties and supported socially conservative women's right to remain in school and at work.
Riza Celikkol, a former close aide, described Kilicdaroglu as "very hard-working and disciplined", while others dubbed him "Turkey's Gandhi" for his soft-spoken demeanor.
– 'March for Justice' –
Kilicdaroglu, who prefers to be known as a "quiet force", took years to hone his accent and make a meaningful national impact.
One of his defining moments came in 2017, when he launched a "March for Justice" from Ankara to Istanbul to protest the jailing of a CHP member of parliament.
At the time, few dared to stand up against Erdogan, who was busy jailing tens of thousands of people or stripping them of government jobs in the wake of the failed 2016 coup.
The march allowed Kilicdaroglu, who studied finance and headed Turkey's social security system before running unsuccessfully for mayor of Istanbul in 2009, to emerge as a leader not afraid to confront Erdogan.
Two years later, Kilikdaroglu's CHP swept into power Turkey's most prized cities, including Ankara and Istanbul, where it ended 25 years of rule by Erdogan and his party.
Kilicdaroglu's tone hardened and confidence grew on the back of these unexpected victories, which shattered Erdogan's aura of political invincibility.
"This is my fight for your rights," Kilicdaroglu declared last year from the darkness of his apartment, after its power was cut. He refused to pay bills in solidarity with others suffering from Turkey's years of economic crisis. Gave.
– 'Mister. Kemal' –
Since then Kilicdaroglu has developed a knack for showing up unannounced at government buildings, media in tow, demanding to see ministers about various social grievances.
He has accused the Statistics Agency of cooking the books to hide the true scale of Turkey's rising inflation, and accused business owners of enriching themselves through hefty state contracts.
Kilicdaroglu also came out swinging last month after more than 45,000 people were killed in Turkey and more than 5,000 in Syria, accusing the government of lax building standards and corruption.
Despite these seeming successes, even his own supporters question whether Kilicdaroglu has the kind of charisma needed to take on Erdogan – a tireless campaigner who comes alive on stage remembers.
Born in the historically rebellious eastern Tunceli province, which has a Kurdish and Alevi majority, Kilicdaroglu may struggle to win over conservative Sunni voters who are the core of Erdogan's support.
Alevis have faced discrimination and even genocide in the Sunni-majority country for not respecting certain customs of Islam.
If elected, Kilikdaroglu would be the first Alevi to lead a Turkish state.
Somewhat dismissively, Erdogan referred to Kilikdaroglu as "Bey Kemal" or Mr. Kemal, an informal form of address rarely used in adult conversation.
Married with three adult children and now a grandfather, Kilicdaroglu once described the early years of his life with his wife, Selvi, as "humble".
"We didn't have a fridge, washing machine or dishwasher," he once recalled.
(Except for the headline, this story has not been edited by NDTV staff and is published from a syndicated feed.)
featured video of the day
First drive on newly-inaugurated Delhi's Ashram flyover